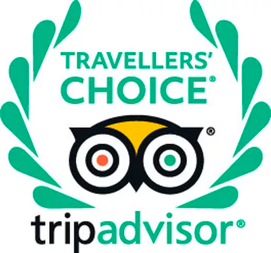 La Calèche, best traveler's choice in 2019 according to TripAdvisor.
0%
Customer satisfaction
Based on 1535 certified opinions by Customer Alliance
Nice and Clean Room, Good Staff.

My stay was very short but sweet. The person who helped check in was very knowledgeable about everything in and around Durbuy and was helpful in every possible way. The room I stayed in was very nice and had all the necessary amenities. The only downside nowadays (not just with this hotel) is the ever-present indicator lights throughout the room, which aren't exactly a gift to light sleepers (no pun intended).

Comfort of room. Good brasserie present in hotel. Located in the middle of the tiny historic city of Durbuy 🙂

Friendly and helpful staff, the hotel room was very clean and gave the appearance of having been recently decorated. The breakfast and evening meals were excellent. The location of this hotel in the main square is very convenient and Durbuy is a very interesting town situated in the Ardenne within easy reach of Luxemburg

Comfy bedroom. Nice shower. Location (not hard, world's smallest city afterall) 🙂

Everything was good! Wonderful place to stay. Very modern. Dominic was great!!!

Durbuy can be busy at times and this hotel is in the middle of it, but seems very calm you still get the street noise but it just seems a relaxing place. They always have plenty of staff so you won't be waiting long for anything and the service is very good. Some rooms have steep staircase to the bathroom in the roof apex but all rooms are a good size and very clean. The restaurant in the hotel serves only wonderful food all the time, so whatever you try it's going to be tasty.